Located in the mountainous area of North Vietnam, Ha Giang is a majestic mountain region with rugged terrain and an average altitude of 800 m to 1,200 m above sea level. This is a region with many high mountains.
The northern highland is also called Dong Van plateau, including Quan Ba, Yen Minh, Dong Van and Meo Vac districts. 90% of the area is covered with limestone mountains, typical for karst terrain.
In 2010, the Dong Van Karst Plateau in Dong Van District was officially recognized by UNESCO as a global karst geo-park, the first of its kind in Vietnam and the second in Southeast Asia (after the Langkawi Park in Malaysia).
The western highlands include Hoang Su Phi and Xin Man districts. In 2012, the terraced rice fields in Hoang Su Phi District were listed among Vietnam's national relics, and later in 2015 it became a national intangible cultural heritage. With its natural resources, Ha Giang Province has many tourist sites of significant value and is a very famous region for adventurous travelers.
The low mountainous region covers the remaining districts and towns, stretching from Bac Me, Ha Giang town, through Vi Xuyen to Bac Quang. This area has strips of old forest interspersed with relatively flat valleys located along rivers and streams.
Visitors who come to Ha Giang can admire the majestic mountains, the terraced rice fields looking like paintings which are shining with a golden color during harvest time (September – October), or sparkling in water during field-watering time (April – May). Amid the up and down mountainous slopes are grounds of beautiful flowers such as peach blossom, plum blossom, yellow mustard flower (January – February). Here and there are houses-on-stilts of the local ethnic residents resting so peacefully with cooking smoke from the kitchens covering the dark green mountains in the later afternoon.
Can't find exactly the tour you want – don't worry – just let us know your schedule, specific needs and interests. Our expert team will design a personalized tour just for you. The more details you provide about your requirements the more we can design the perfect trip for you.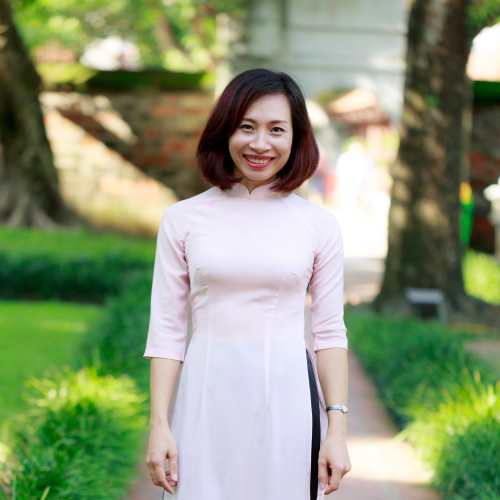 Diu Tran (Ms)
Peter Surmont (Mr)
Latest reviews
Read out the lastest reviews and feedbacks from our guests.
Sent:
Tuesday, August 9, 2016 16:10 PMHello DiuSorry to hear you didn't get your visa request...this time!!  Don't give up.Today we had 22o for winter, clear day. We have been really lucky...
Sent:
Friday, August 5, 2016 15:31 PMDear DiuI am sorry this has taken me such a long time to write - straight after our holiday in Vietnam we went back to the UK for the month.We are now ...
From:
Péter Szabó
Sent:
Monday, February 29, 2016 10:31 PMDear Diu,We spent 2 fantastic weeks in Myanmar, thanks again for you and your team.Best Regards,Peter
Sent:
13 Tháng Giêng 2016 7:45 SAHi Ms Diu,Now that I am back at work and have internet again I wanted to take the time to thank you for an exceptional holiday.I must say I was a little d...
Sent:
05 Tháng Giêng 2016 10:17 SADear Diu,Sorry for the delay in writing back, we hit the road running with Christmas and New Year back here.I can't tell you what a marvelous trip we had...
Sent:
02 Tháng Hai 2015 10:54 SADear Ms Tran:I would like to provide some comments about our recent tour of Myanmar.My wife Onuma and I had a wonderful time and will gladly recommend your...
From:
Andrew COHENDear Diu,I would like to take this opportunity to tell you just how much we enjoyed our holiday in Vietnam.  From the beginning of the planning process until the end, you wer...
Sent:
04 Tháng Sáu 2015 4:37 CHHi Diu !that's great that you wrote me, I wanted to do it anyway.I'd like to thank you so much! the trip was very nice, train, hotels and boat were perfect...
From:
Rod Paahana
Sent:
23 Tháng Sáu 2015 6:13 SAAloha Diu,I am back home. I loved the trip. you did a good job. All the 4 guides were great. The hotels were wonderful, exc...
Dear DiuHello again! Thank you for your last email. We have been home for a couple of weeks now and finally I have a moment to reply. Sorry that it's taken a while.It is a pity that we didn't get to meet you w...
Sent:
01 Tháng Mười Hai 2015 5:40 CHThank you, we were very pleased with our trip to Myanmar, Laos and Nth Thailand.  All went well, many of the properties were exceptional, more like 4 star tha...
Ha Giang travel articles
Explore the deeper insight of your dreamy destinations and get the valuable experience from the stories of our expert travellers.