VIETNAM
Despite just being a small country located in the Indochina Peninsula with a safe security, Vietnam is truly a melting pot of culture globally attracting tourists. From chaotic and energetic city centers with hustle and bustle streets full of motorbikes- a common means of transport here – to tranquil countryside villages on the delta, tourists can experience a uniquely diverse culture and cuisine, as well as their local life. From the breath-taking view of greeny rice terraces in the mountainous areas to spectacular illuminated caves in Halong Bay – one of the most attractive natural wonders in the world, Vietnam will never let you get bored. Heading down to the central of Vietnam, then visit Hoi An old town, where travelers can find mouth-watering food while leisurely strolling along peaceful town streets embracing a meandering river. Going further to the south of the country, tourists will immediately immerse themselves in frenetic Ho Chi Minh city with vibrant beer corners before finding that it is also interesting to discover the floating markets on Mekong Delta.
VIETNAM WEATHER
Traveling to Vietnam, tourists will have a chance of experiencing not only its typically tropical monsoon climate with a warm temperature and high humidity all year round but the diversity of weather across the country because of its length with an extensive coastline as well. From an unusual breezing winter (December- February) in the northern mountainous areas to a hot summer (June – August) or cooler autumn (September – October) in the north, the landscapes gradually change its beauties with a wide range of colors that are attractive to tourists. Heading down to the Vietnam central part for a visit to Danang or Hoi An, travelers will find it is a great land with a more comfortable temperature. Southern Vietnam, with only two seasons which are dry and rainy season, is a great place for those who love sunshine in combination with sudden showers. Though there are some months in the rainy season when the country undergoes a huge amount of rainfall resulting from tropical depression or tropical storms, Vietnam is still an amazing destination in the world.
VIETNAM PEOPLE AND CULTURE
Vietnam, a beautiful country with 54 ethnic groups, is absolutely a unique blend of culture that is shown in all aspects of life from clothing, architecture, cuisine, religion to music and art. Having the main population of Kinh or Viet people, Vietnamese are famous for being one of the friendliest and most hospitable people in the world. Following collectivism, Vietnamese people show their culture of closely living in the community and support each other when they need it. It is common for two or three generations to live in the same house as children are expected to take care of their parents when their parents get old. As a nation with diverse traditions and customs, Vietnam is indeed a must-visit destination for all travelers. 
VIETNAM FOODS & DRINKS
Not only is Vietnam a blend of culture, but it is also a mecca of food and drink. From street-foods on the standing vendors to five-star dishes on five-star restaurants, Vietnamese food always is appetizing as the harmonic combination of diverse local ingredients. Oh! Come to Vietnam, and you will find that there is nothing more delicious than a bowl of "Pho" that you have ever enjoyed in your life. "Banh Mi", a crunchy French-style type of sandwich, is so tasty that everyone can right away fall in love with it at first bite. Regarding drinks, have you ever tried a bottle of Hanoi beer or Saigon beer on the dynamic corners, taking a view of hustle and bustle city streets? A lot of travelers making a journey to this beautiful S-shaped country cannot forget the amazing experience of gastronomy tours. Would you like to be one of them? Let's travel to Vietnam with Go Southeast Asia
Top 3 Vietnam Tours 2020
We are proud of our excellent team who are not only peasant to work with but will also bring you an unparalleled experience when booking your tour.
Discover Vietnam by Your Style
Select your preferable travel style among the great diversity of our categories divided by travel budgets and destinations.
Top Vietnam Travel Destinations
Wondering where you should visit in Vietnam? Here are the top travel destinations in Vietnam.
Can't find exactly the tour you want – don't worry – just let us know your schedule, specific needs and interests. Our expert team will design a personalized tour just for you. The more details you provide about your requirements the more we can design the perfect trip for you.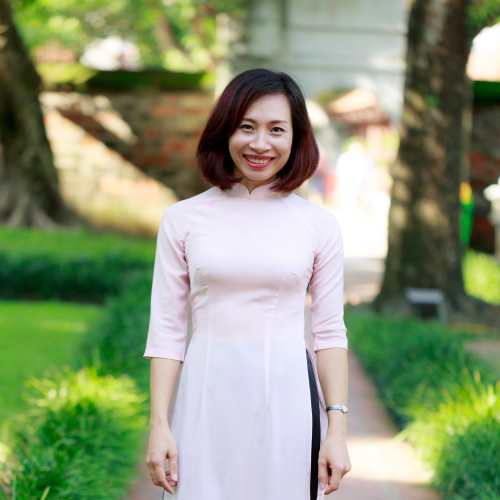 Diu Tran (Ms)
Peter Surmont (Mr)
Latest reviews
Read out the lastest reviews and feedbacks from our guests.
Sent:
Tuesday, August 9, 2016 16:10 PMHello DiuSorry to hear you didn't get your visa request...this time!!  Don't give up.Today we had 22o for winter, clear day. We have been really lucky...
Sent:
Friday, August 5, 2016 15:31 PMDear DiuI am sorry this has taken me such a long time to write - straight after our holiday in Vietnam we went back to the UK for the month.We are now ...
From:
Péter Szabó
Sent:
Monday, February 29, 2016 10:31 PMDear Diu,We spent 2 fantastic weeks in Myanmar, thanks again for you and your team.Best Regards,Peter
Sent:
13 Tháng Giêng 2016 7:45 SAHi Ms Diu,Now that I am back at work and have internet again I wanted to take the time to thank you for an exceptional holiday.I must say I was a little d...
Sent:
05 Tháng Giêng 2016 10:17 SADear Diu,Sorry for the delay in writing back, we hit the road running with Christmas and New Year back here.I can't tell you what a marvelous trip we had...
Sent:
02 Tháng Hai 2015 10:54 SADear Ms Tran:I would like to provide some comments about our recent tour of Myanmar.My wife Onuma and I had a wonderful time and will gladly recommend your...
From:
Andrew COHENDear Diu,I would like to take this opportunity to tell you just how much we enjoyed our holiday in Vietnam.  From the beginning of the planning process until the end, you wer...
Sent:
04 Tháng Sáu 2015 4:37 CHHi Diu !that's great that you wrote me, I wanted to do it anyway.I'd like to thank you so much! the trip was very nice, train, hotels and boat were perfect...
From:
Rod Paahana
Sent:
23 Tháng Sáu 2015 6:13 SAAloha Diu,I am back home. I loved the trip. you did a good job. All the 4 guides were great. The hotels were wonderful, exc...
Dear DiuHello again! Thank you for your last email. We have been home for a couple of weeks now and finally I have a moment to reply. Sorry that it's taken a while.It is a pity that we didn't get to meet you w...
Sent:
01 Tháng Mười Hai 2015 5:40 CHThank you, we were very pleased with our trip to Myanmar, Laos and Nth Thailand.  All went well, many of the properties were exceptional, more like 4 star tha...
Vietnam travel articles
Explore the deeper insight of your dreamy destinations and get the valuable experience from the stories of our expert travellers.