Located about 300 km North-West from Hanoi, Mu Cang Chai has one of the most amazing landscapes and rice-terraces in Vietnam. This area is maybe not as famous as Sapa, but it deserves to be.
Mu Cang Chai has similar topography as Sapa, with steep hills and deep valleys where the local minority groups, including Mucangchai, Hmong, Thai, and Dao, have created a masterpiece of terraced rice fields. They have been cultivating about 500 hectares of rice terraces for centuries in La Pan Tan, Che Cu Nha and De Xu Phinh communes.
In 2007, these fields were recognized as a national heritage site.
Mu Cang Chai terraced fields are popular for adventurous travelers who want to explore, and offer opportunities for photographers who want to find dramatic panoramas. The best time to see the terraced fields are the wet season in May and the golden rice season in September.
In September, Mu Cang Chai is shimmering with a golden color. Come and participate in the skydiving festival at Khau Pha pass, one of the beautiful spots of Mu Cang Chai. Skydiving gives you an unrivaled opportunity to see the terraces from the air.
Coming to Mu Cang Chai gives you the opportunity to immerse yourself in the beauty of the terraced fields, to smell the fragrant rice, to walk along the murmuring streams flowing around the fields, and to enjoy nature at its best.
You will also meet friendly and hospitable people, enjoy delicious food, listen to the stories from the guides about the wooden houses with thatched roofs in the middle of terraced fields. The so-called honeymoon hat.
40 km from Mu Cang Chai is the Ngoc Chien commune, famous for its hot mineral springs. After a day of trekking, there's nothing more enjoyable than taking a dip in natural hot-spring pools.
Though the main transportation from Hanoi to Mu Cang Chai is by ca, due to the far distance and for safety reasons, those who love adventurous experiences can travel by motorbike. Make sure you do not miss Thu Cuc tea hill on the way because it will be a perfect site for you to take great photos of endless green terraces.
Come and explore Mu Cang Chai with us!
Can't find exactly the tour you want – don't worry – just let us know your schedule, specific needs and interests. Our expert team will design a personalized tour just for you. The more details you provide about your requirements the more we can design the perfect trip for you.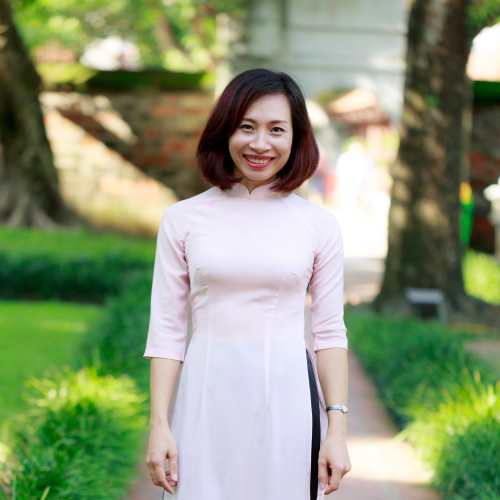 Diu Tran (Ms)
Peter Surmont (Mr)
Latest reviews
Read out the lastest reviews and feedbacks from our guests.
Sent:
Tuesday, August 9, 2016 16:10 PMHello DiuSorry to hear you didn't get your visa request...this time!!  Don't give up.Today we had 22o for winter, clear day. We have been really lucky...
Sent:
Friday, August 5, 2016 15:31 PMDear DiuI am sorry this has taken me such a long time to write - straight after our holiday in Vietnam we went back to the UK for the month.We are now ...
From:
Péter Szabó
Sent:
Monday, February 29, 2016 10:31 PMDear Diu,We spent 2 fantastic weeks in Myanmar, thanks again for you and your team.Best Regards,Peter
Sent:
13 Tháng Giêng 2016 7:45 SAHi Ms Diu,Now that I am back at work and have internet again I wanted to take the time to thank you for an exceptional holiday.I must say I was a little d...
Sent:
05 Tháng Giêng 2016 10:17 SADear Diu,Sorry for the delay in writing back, we hit the road running with Christmas and New Year back here.I can't tell you what a marvelous trip we had...
Sent:
02 Tháng Hai 2015 10:54 SADear Ms Tran:I would like to provide some comments about our recent tour of Myanmar.My wife Onuma and I had a wonderful time and will gladly recommend your...
From:
Andrew COHENDear Diu,I would like to take this opportunity to tell you just how much we enjoyed our holiday in Vietnam.  From the beginning of the planning process until the end, you wer...
Sent:
04 Tháng Sáu 2015 4:37 CHHi Diu !that's great that you wrote me, I wanted to do it anyway.I'd like to thank you so much! the trip was very nice, train, hotels and boat were perfect...
From:
Rod Paahana
Sent:
23 Tháng Sáu 2015 6:13 SAAloha Diu,I am back home. I loved the trip. you did a good job. All the 4 guides were great. The hotels were wonderful, exc...
Dear DiuHello again! Thank you for your last email. We have been home for a couple of weeks now and finally I have a moment to reply. Sorry that it's taken a while.It is a pity that we didn't get to meet you w...
Sent:
01 Tháng Mười Hai 2015 5:40 CHThank you, we were very pleased with our trip to Myanmar, Laos and Nth Thailand.  All went well, many of the properties were exceptional, more like 4 star tha...
Mu Cang Chai travel articles
Explore the deeper insight of your dreamy destinations and get the valuable experience from the stories of our expert travellers.